Five Things the Super Bowl Commercials Told You About the Actual Game
Let's have a moment of silence for the end of a great football season.
Thanks.
Sunday's Super Bowl turned out to be a great game after what started to looked like a historic beatdown. In the end, the better team won and the game was exciting, which is all you can ask for (unless you are a fan of the Niners).
Many have and will continue discussing the game's key plays, Beyonce's performance (and wardrobe malfunction?), and the 34-minute blackout delay. I said my piece on each of those via Twitter already, but since noticed the parallel between the famous Super Bowl commercials and the action in the game. Here are five Super Bowl moments reflected in Super Bowl commercials:
Audi "Prom" commercial versus Jacoby Jones' concussion –
http://www.youtube.com/watch?v=ANhmS6QLd5Q
Look. I'm all for making the NFL safer. Repeated head trauma, CTE, and early-onset dementia are issues that could seriously threaten the popularity (and profitability) of professional football sooner than we all think.
However…that hit was incredible.
That's the issue the NFL faces in the coming years. How do they balance what we want to see (big hits and choreographed violence) with what we don't want to see (former players with crippling mental and physical injuries)? It's impossible to maximize both, and finding the balance is Commissioner Roger Goddell's most pressing duties.
The obvious link to the commercial is the haymaker that kid took from the Prom King. He did, of course, stay on his feet (unlike Jones), but each went home with something to cherish.
Tracy Morgan's Mio Fit commercial versus Paul Kruger's Sack Dance –
http://www.youtube.com/watch?v=aOFDeCkNmmE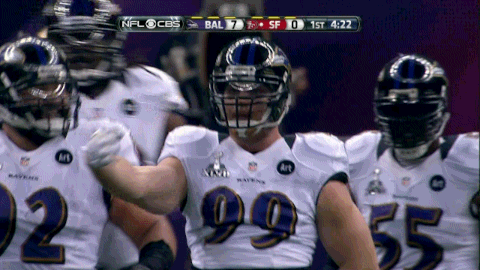 This is basically just two fat guys being more active than I gave them credit for.
More pressing questions: who approves Tracy Morgan as a pitchman for a new sports drink? Did the person with the idea get a promotion? Did Tracy have to get in shape for that role? How many things do you associate with Tracy Morgan before you get to "sports drink," "electrolyte," "good health," or "exercise?" A thousand?
Dodge's "Farmer" commercial versus the 34-minute Blackout –
http://www.youtube.com/watch?v=sillEgUHGC4
Both dragged on longer than necessary and had me checking the clock. A couple times.
I actually didn't hate the Dodge commercial; I just wish it were cut in half. To me, this was a nod to the super-successful Chrysler/Imported From Detroit commercials…except designed for people in the Midwest and Great Plains. That's fine for Dodge to do, but it risked alienating broad groups of people. I imagine re-airs of this commercial will find their way to The Outdoor Channel or CMT.
The blackout struck me in a similar way: the first 11 minutes were Twitter Gold. Props to those who had Bane photoshops going viral in minutes. The last 20 minutes were a mix of recycled Bane/Beyonce jokes and way more Steve Tasker than I was ready for. This was a moment that will ensure we remember this Super Bowl forever, but not your best work, All-of-Twitter.
Tide's "Miracle Stain" as the Niners' Failed Comeback –
http://www.youtube.com/watch?v=YoOfBVraMNw
One of the surprisingly entertaining commercials from Sunday, Tide and the Joe Montana Stain made their appearance just as the Niners began their comeback. I guess we should have known how things would end up.
The Miracle Stain and the actual Niners both inspired hope in their fans before being snuffed out by the Ravens. The Stain fell at the hands of the worst wife ever; the Niners lost after the missed hold on Michael Crabtree in the end zone. While I recognize that Crabtree was held on that play, I don't think any ref in the world would make that call. The Niners had their chances inside the five yard line. They should have cashed in.
I'm FAR more concerned with the safety of that fictional wife. I'm just glad she wasn't fake-married to Chris Brown.
 GoDaddy's "Big Idea" commercial and the Ravens' Big Idea –
http://www.youtube.com/watch?v=aE6ugHoIB_Q
In the final game of the regular season, the Ravens suffered a big loss on the offensive line. Starting Guard Jah Reid went down with a season-ending toe injury, forcing the team to adjust. They did so with a series of moves instead of plugging someone into Reid's position; a risk that many teams wouldn't have considered.
The moves turned out to be the boost needed to propel the offense to a new level and, ultimately, a Super Bowl ring. Joe Flacco had one of the best postseasons ever, posting 11 touchdowns against ZERO interceptions and eight sacks in four games. Not bad for a team missing their starting guard. This bold decision put the Ravens in the captain's chair asking for more everything.
—
That's what I noticed in the Super Bowl, what were your favorite commercials? Did any of them win over your Super Bowl party? Is anyone happier than that kid who got to kiss Bar Rafaeli a bunch of times?
Hit the comments below!